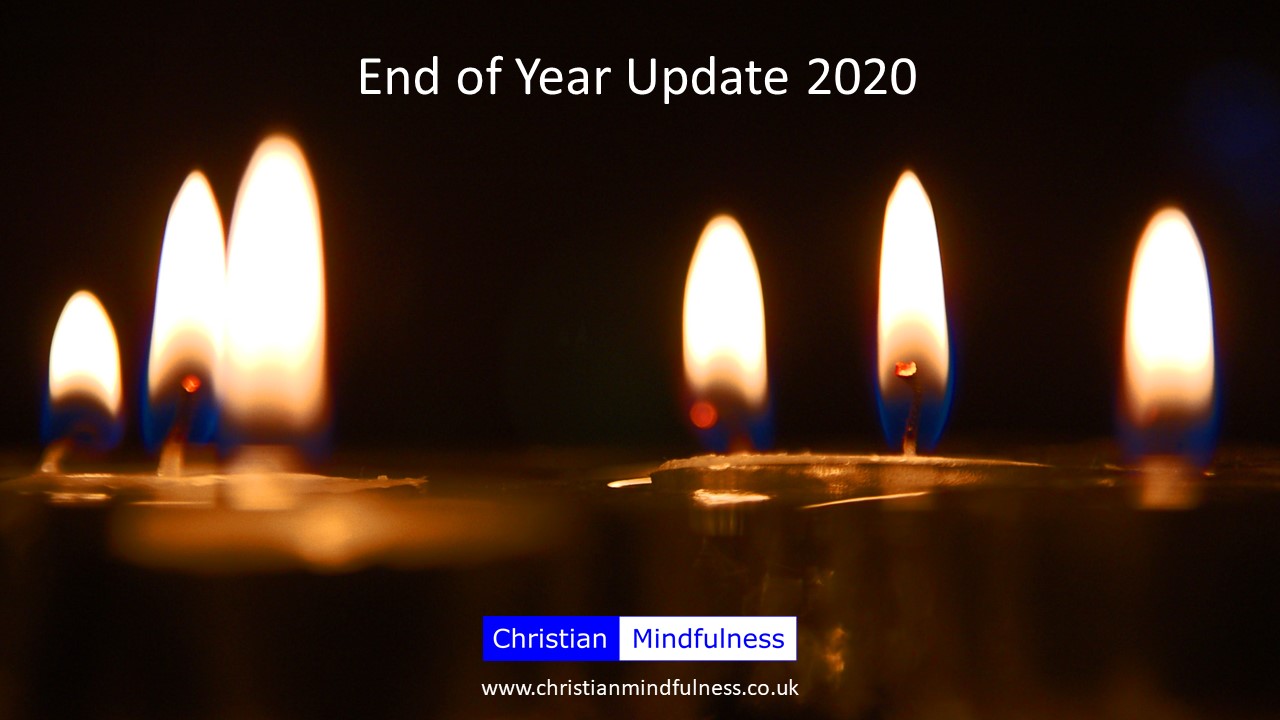 Christian Mindfulness End of Year Update 2020
This year has brought with it many unexpected blessings and opportunities but also a great deal of suffering, hardship and grief in our society brought on by a worldwide pandemic.  I would sum up my own year with the Christmas motif – light in the darkness.  It's been a deeply challenging year in which our lives have been turned upside down and we have been forced to follow restrictions and social distancing that go against our God given desire for social contact and closer relationships.  Instead, many of us have had to step back and keep our distance.  Loneliness and isolation were already painful fissures in our society and the pandemic has only heightened this struggle.
In late February 2020 I had the unexpected privilege of speaking at a conference at the University of Edinburgh.  The conference was focussed on "The dark side of meditation" (see short vlog here). How are we to face up to and live with the darker side of life and our difficult experiences in this life?  What will we do with our own darkness and despair in the face of a broken world?  Will we run away from and avoid the pain as best we can? Or is there another path in which we can walk with God through the valley of the shadow of death?  These were the questions I sat with as I prepared. 
One of the most helpful and comforting books I have read in 2020 is by Mark Meynell – When darkness seems my closest friend.  The title is probably not the most inspirational(!) It's based on the last verse of Psalm 88.  It's one of the most honest and well-articulated books I have read by a Christian leader who has suffered with the darkness of depression and mental health struggle.  As I read this book, I felt like I has found a friend who was able to say the things I couldn't find the words to say myself.
In the first few months of 2020 I was preparing for an exciting new venture – The Revive Us Again Conference which was due to take place at Central Hall in Edinburgh.  With plenty of tickets sold it became clear in early March that the Covid pandemic was about to hit the UK.  As the main conference organiser I had to make some quick decisions and the entire conference was shifted online.  This meant that many people who would never have travelled to Edinburgh engaged with conference and were blessed and challenged.  One of the biggest surprises of the conference was an opportunity for me to interview RT Kendall about some of the many books he has written over the years and his more recent book The Midnight Cry.  This was such a privilege and blessing which I am so thankful to God for.  Don't miss out on this hugely encouraging conference.  You can watch all of the conference sessions here.
Birthed out of the conference is an unexpected prayer meeting for revival.  We began meeting in March 2020 and have met almost every week since apart from a short break for the summer and Christmas/New Year.  Something very special happens when brothers and sisters meet together in unity to pray for revival.  We have spent much time looking at biblical principles for revival and some of the incredible movements of the Holy Spirit in the history of the church.  These have been our fuel for prayer based on the classic book by Arthur Wallis – In the day of Thy power.  If you would like to join us on zoom to pray then please check the Events page of the website for more details.
Also in March I decided to launch the first Christian Mindfulness Zoom Group Course via Zoom.  What a blessing and encouragement this has been!  The small group gelled quickly and those involved were able to benefit from the course materials and form friendships that have lasted.  The group got on so well that they asked me to present the follow up course – Christian Contemplation – for a further seven weeks.  And now most of the group continues together for ongoing support and encouragement.  For future Zoom Group Courses see here.
In March I also decided to offer a Free Tuesday meditation time at 2pm on Zoom.  This has been well attended by more than 50 people in total from all over the world.  I'm so thankful to God for all who have participated in these ongoing guided meditation times which have been a great encouragement and blessing.  For more details see the Events page of the website.  All welcome.
The next update for 2020 relates to the International Christian Mindfulness Conference which I organised for October.  I was thrilled to bring together a variety of excellent speakers who were able to explore Christian Mindfulness from theological, psychological and spiritual formation perspectives.  It was a unique opportunity to see how mindfulness is being embraced and practiced in the context of biblical faith and relationship with God who is Father, Son and Holy Spirit.  The conference is still available to view.  See here.
Lastly, in late October I presented on Christian Mindfulness to approximately 60 school teachers via Zoom to the Lumen Christi Multi-Academy wellbeing day (a group of Catholic Schools located in and around Birmingham).  This went to so well that I was invited back to present a series of Christian Mindfulness meditations for the Advent season seeking to support and encourage the teachers through what has been an extremely stressful season.
Thank you again to all who have encouraged and supported me in the ministry of Christian Mindfulness and Revive us Again in 2020.  It really is appreciated.  If you would like to support the ministry of Christian Mindfulness further then please click on the link here which takes you to the Globe UK website.  I am a Missionary Associate of Globe UK.
God bless you as you seek to know Him more in 2021.  May you know the joy of meditating on the core truth of your existence (according to Henri Nouwen) – You are the beloved of God.
Kind Regards,
Richard H H Johnston
Director of Christian Mindfulness
Christmas Carols are rich with theological depth and meaning but they can be so familiar to us that we don't stop and think about what we are singing.  When light begins to shine in the darkness it begins with a tiny flicker.  It seems so small in the midst of the darkness that surrounds.  But what matters is the Source and power of that light to banish darkness and bring hope that lasts.